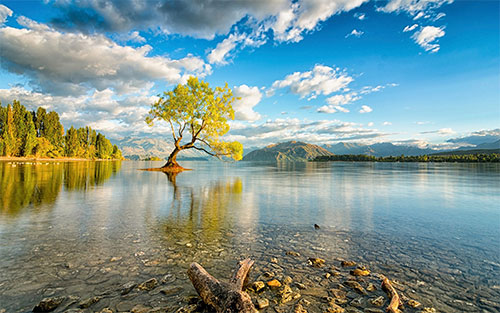 Experience Cape Reinga and Ninety Mile Beach, on the full day Dune Rider - Cape Regina via Ninety Mile Beach day trip offers by the Explore Group that takes you to New Zealand's northern most tip. Along the way you will encounter fascinating landscapes, legends and ancient history. Be entertained with an enlightening commentary on both historic and cultural points of interest. Plenty of stops are made for photos and to break the journey.
Starting in Paihia, travel to Puketi Forest to walk through spectacular native bush to view the giant Kauri and many other native specimen trees. As you walk listen to the many calls of the unique diversity of New Zealand birdlife. Enjoy morning tea stop at the Coopers Beach cafe on the beautiful east coast. A short drive on to Waiharara, arrive at the ancient buried Kauri forest. Marvel at trees that were buried thousands of years ago, to be uncovered in the gum digging boom that lasted 150 years and help found the culture and diversity of the Northland area as it is known today.
Take an exhilarating ride through the Te Paki stream; known locally as 'Quick Sand' stream for good reason. Then give yourself a workout by climbing the giant sand dunes and toboggan back down. Great fun and well worth the effort. Back in the bus and off to Cape Reinga. The magnificent sweeping views of Te Werahi beach down to Cape Maria Van Dieman, the crashing turmoil as the Tasman Sea and the mighty Pacific Ocean collide, the splendid isolation of the lighthouse and the location of the Spirit Tree are just some of the highlights of this extremely spiritual place.
A brief comfort stop and a chance to stretch the legs at Houhara, before continuing on the journey to Wanui and the Ancient Kauri Kingdom. Here you can browse the finished products made from ancient and massive Kauri timber before buying your souvenir of an awesome day out. To round off your spectacular day, visit the 'world famous' Mangonui Fish shop for afternoon tea/dinner. Grab the freshest fish and chips as the sea washes gently beneath your feet. Then back to Kerikeri and Paihia, via the Stone Store and Kemp House.